For whatever reason, high fantasy (specifically of the Western variety) is something I never became partial to as a genre. Why is science fiction so much more appealing? High fantasy is as capable of creating believable, lived-in worlds while also dealing in morality tales and speculate on the state of human nature — so why the lack of enthusiasm?
Maybe it's because so much of that genre feeds off the corpse of J.R.R. Tolkien like a rabid zombie, where every setting is a feudal medieval environment with elves and dwarves and orcs. Maybe, despite the fine details, such overused and iterative tropes make those works almost indistinguishable from one another. It also does not help that, with the wealth of mythological material from so many cultures at their disposal, many storytellers are determined to use the Nordic kind until the end of time (perhaps "Ragnarok" would be more apt?).
Yet, at the same time, one of my favorite videogames in the last decade or so — Dark Souls — is a Western-style high fantasy. Not to mention my fondness of Ico and Shadow of the Colossus. None of these titles, however, came from anywhere in Europe or the U.S. but in Japan. They were the genre's tropes filtered through disparate cultural sensibilities that, while not necessarily making it original (for nothing truly is), gave it a distinctly ethereal and ominous approach that differs from others of its kind.

That game also spends time world-building, but more through its environment and what can be inferred through the scant dialogue spoken and cryptic item descriptions. While the lack of info-dumps is well enough (players are rewarded not only with more weapons or armor or spells but further information about this world with exploration), it is a prime example as to why videogames can function uniquely as a storytelling medium as opposed to borrowing heavily from passive forms of Art like film or television.
The Witcher III is not Dark Souls, by a long shot, but one aspect makes it stand out among the rest: an anachronistically modern attitude.
Fantastical Frolic
Remember Dennis the Peasant from Monty Python & The Holy Grail?
Well, it's kinda like that. Even the sense of humor. Yet The Witcher III and its source material is not a cultural product of Britain — but Poland.
Given the country's unfortunate history of being occupied by Nazi Germany and then annexed by the Soviet Union as well as one of the last pagan areas in Europe to be Christianized, it is hard to not see Geralt of Rivia — the pallid-skinned, white-haired, dry-witted yet sarcastic protagonist — as being representative of the nation. He tries to maintain a tangible sense of identity, with his own internalized but consistent sense of ethics, despite attempts by other parties to change or erase it. He is mocked and dismissed by those who nonetheless require his skills and knowledge for problems they cannot solve themselves but he takes it all in stride. He endures and continues on, in some way, whether it is through the company of good friends or the peaceful quiet of loneliness.
He very much feels like someone who'd adapt well to a real, contemporary world like our own (though this goes for much of the cast). Besides the nonchalant approach to casual sex that's fairly well-known about the franchise by now, several individuals are (similarly to Morrigan in Dragon Age: Origins) openly atheistic and scientifically-minded when it comes to magic. Even the Witchers themselves study and treat mythological beasts as if they were actual animals and curses were they akin to medical ailments. There's also a very anti-authoritarian streak that would be more fitting for a 1970's Punk or even a Millennial — both from the setting's inhabitants and by the narrative — that treats all war and struggles of power as a masturbatory exercise among the elite. Those below them are more like expendable commodities than people, who will always suffer the worst effects of the conflict while the affluent hoard what gains are made. That war does not have a winner, for victory is really based on who loses the least.
You see, this is the kind of realism I want when it comes to high fantasy. Best of all, doing so while still embracing it exists in a world of rock trolls and vengeful specters. It retains a sense of humor even with all the grim (and Grimm) subject matter on display. Its best moments do not come with gratuitous violence or pandering sexuality but the very personal interactions between characters. All those animations of Geralt chopping off heads and limbs or putting another notch in his belt pale in comparison to him acting as an adoptive father to a rambunctious daughter or accompanying a friend to a wedding in which she's a bridesmaid…while occasionally possessed by a highwayman's ghost (it's even better in context!). The most minor of characters are rife with personality; where cretins can have fleeting moments of empathy and self-awareness while ostensibly admirable people will rationalize indefensible actions with tortured, self-satisfied logic.
This is also a world where prophesies and destiny are tangible forces but there are still those, for one reason or another, who are skeptical of their viability and argue against it (or of certain "signs"). Those that believe in them are prone to making inaccurate predictions or reach for conclusions based on very circumstantial evidence. No one believes it without a second thought or without some personal bias attached. Even curses can be accidentally invoked by those who were simply too vindictive or reckless to think of its effects, with the means to reverse such a hex never being quite clear due to numerous factors both known and unknown. At least until a Witcher investigates and deduces a situation based on observation as well as previous experience.

Y'know, like most flesh and blood people would…

Fantastical Follies
Okay, okay, okay — enough adulation. There is one big problem I have with the storytelling and it's one I have with a lot of Western high fantasy: it's racially monochromatic.
Elves, dwarves, and hobbits may be intended to be oppressed social minorities…except they're all portrayed as white. While the Hearts of Stone DLC adds the Ofieri — a conflation of people from India, Pakistan, and various Middle Eastern nations — to remedy this, it's still bewildering to have groups referred to as "nonhumans" resemble all the other white humans (save for having pointed ears or smaller in stature or both). Why couldn't elves, say, appear as East Asians? And, no, "'cause it's like feudal Europe" isn't an excuse. If we are going to use history, why not use the mistreatment of non-white groups to emphasize that point in the narrative? It'd give more weight to the way elves are often seen as naturally devious or how females are exoticized due to their race, for example. If science fiction can use extraterrestrials to substitute real ethnic groups, why couldn't elves and dwarves and hobbits? There is none — unless you simply contrive it.

As far as the actual gameplay, it's like a weird conflation between Skyrim, Red Dead Redemption, and the aforementioned Dragon Age: Origins but manages to be better than all three combined — with a combat system akin to the Batman: Arkham games or Shadow of Mordor, as well as some eerily similar elements of dodging and riposting opponents from Bloodborne. Unfortunately, it carries over some warts from some of those titles. Big warts.
"Embarrassment of riches" is the first thing to come to mind because, as common in any game with role-playing elements (or made by Ubisoft), there are innumerable items that lie around for the taking and micro-managed to oblivion. Many ostensibly useless knick-knacks become necessary for fashioning new equipment as well as brewing concoctions — which would be welcomed, were the choices not so overwhelming and often go unused anyway.
The concoctions themselves are so specific in function yet last too long at the same time. Then there are oils applied to swords to cause extra damage to certain kinds of monsters, made convoluted due to some odd categorization (why are Nekkers considered "ogroids" instead of "necrophages"?). While this may be consistent with the source material's lore of a Witcher's methods — it only translates to busywork, padding out the least interesting aspect of play, in a videogame. Having only half of all types of monster oil and one concoction combining the effects of few others might be considered too streamlined — but it cuts down on so much wasted time and effort for such little added effect.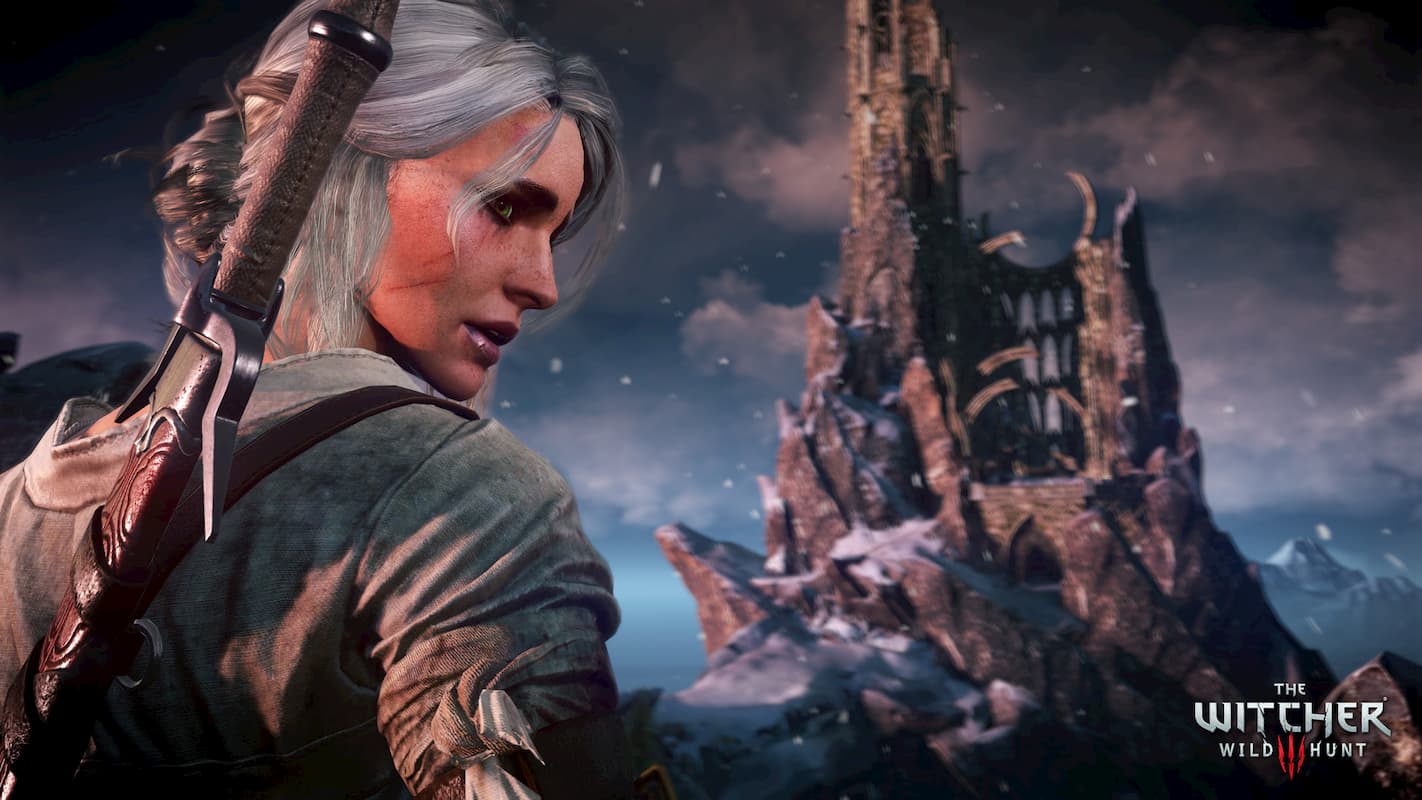 It's a problem endemic in action games with RPG elements attached. So much of the basic gameplay in such titles is based on mechanical skill, mainly mastery of the control scheme, which makes an abstract stat system more complimentary with turn-based combat feel out of place. In fact, given this is an open-world title as well, it feels more like an arbitrary barrier to where you can travel instead of allowing player agency — which is wholly counterproductive to such an experience. These aren't a matter of challenge either as enemies at higher levels than yourself (each quest has a "suggested level" to accomplish them) are so disproportionately powered, a few blows are enough to kill Geralt, that it doesn't matter how skillful you are as a player.
It also does not help that newer, better equipment is dropped so much or for sale in shops that anything crafted becomes quickly obsolete. Even one "free DLC" (read: content update) includes access to the best armor and weapons available, so why even put up any pretense of managing inherently inferior equipment? In fact, why have players endlessly replacing various swords than just keeping two throughout that only need to be upgraded or repaired? It could be argued that, because of their status bonuses, things like armor piercing or increased Sign intensity make the player weigh their options — but such effects are either meaningless or negligible. I can't say which, exactly, because it was barely noticeable. Perplexingly, being able to dismember enemy combatants is noticeable but seems unaffected by any status bonuses from equipment. It occurs often enough as is, with lower level enemies becoming easily separated from their extremities.

Fantastical Philosophy
However, after so many role-playing games with a morality system, where one's actions are measured on some variation of "good" and "evil," Witcher III takes the best possible approach: it doesn't have one. At all. The first area of the game (acting as something of a tutorial section), White Orchard, has two great examples of such.

The first scenario is when approaching a dwarven blacksmith whose workshop has been subjected to arson. Geralt, being a Witcher and thus an adept tracker, is tasked to follow the arsonist's trail and apprehend him. You find him but are offered financial compensation to let him go free. Now, you can be an upstanding citizen and refuse the bribe to keep your promise. Why not? It is, ostensibly, the right thing to do. The problem is that, due a singular yet irrelevant technicality, the man is hanged and the dwarven blacksmith is further ostracized within the village he works. Was it really the "right" decision, then? Perhaps letting the arsonist go, to have the blacksmith just bite the bullet and live with his loses, might be preferable. The arsonist is a drunken lout, wounded by carnivorous river imps, who spent all his money on booze and is willing to part with whatever he has left to go unpunished for his crime. But, really, didn't he already punish himself? He wasted the inheritance of his dead mother to get himself shit-faced and then inadvertently commit a crime in the process, towards someone with whom his dead mother was a good friend.

The second scenario involves coming across an herbalist with a young woman in her care, who had been severely wounded in a griffin attack. Geralt is given the option to use a basic healing item for Witchers to help her recover — though he warns that, for anyone who hadn't gone through the mutagenic process he had, such a potion may have adversely detrimental side effects. You could simply let her die due to that fact, much to the herbalist's disappointment. If you decide to use the potion, the herbalist is ecstatic and rewards you a bunch of items — thanking you for "actually caring." Again, this sounds preferable, but the writers throw another curveball by having Geralt meet the injured woman's significant other and he berates you for it. He explains your potion, though it let her live, broke her as a person. She is stricken by so many psychological dysfunctions that she cannot interact with anyone as she did prior to her recovery.
Which decision is right, which is wrong? That's entirely up to you, the player, to decide and accept (or excuse). There is no "correct" approach to these situations and, thankfully, the game never lazily reduces them to cases of false equivalence. It is often so easy to make things either a wholly black-and-white affair or cynically claim "both sides" (even if there's several) are somehow equally awful or valid 'cause reasons. There's an acceptance and understanding of how complex (or complicated) the world is, where causation and effect are not always clear until well after the fact. Life is predictable, due to recorded history and everyday monotony, yet often punctuated by unexpected events that lead to upheavals and a clash of values. Those values are not always cultural or political differences between people of competing nations and ethnic groups — but your values as well.
Despite being the third and final installment in a videogame franchise, not to mention part of a literary one which first began in 1986, it more than succeeds on its own merits. It succeeds so well that I could not help but order and purchase the first official English-translated anthology of short stories — The Last Wish — that only endeared me further with the material as well as the subsequent Sword of Destiny. I've already gotten The Blood of Elves, the first book of the five-part saga, and plan on getting the rest soon enough.

[Originally posted on 8/25/17 @ Medium.com]