Were I to explain my hesitancy about checking out the Borderlands series, it would be the games' developer — Gearbox Software — and especially its founder as well as CEO and president Randy Pitchford. The always lovable Jim Sterling has brought up, on a few occasions, a rather infamous game by the name of Aliens: Colonial Marines. It wasn't helped by the interview where Wesley Yin-Poole asks completely reasonable questions and Pitchford avoids answering any of them in a hyper-defensive manner. The nauseating self-aggrandizement and using disingenuous excuses like "it's all subjective" or "we worked hard on it," not taking responsibility for poorly handling the project in any way, was beyond infuriating. Last but not least, Ben Croshaw's scathing reviews of the first two Borderlands games only further convinced me to not bother.
Yet, quite recently, I bought a copy of Borderlands: The Handsome Collection. Why? It's all because of Gearbox's collaboration with Telltale Games — Tales from the Borderlands!

Aim-and-Shoot, or Point-and-Click?
Anyone who knows me well enough can tell you that, though I still play them, I am not particularly fond of first-person shooters. I do, however, have a soft spot for a once-ubiquitous genre that has since become a niche market, especially among indie developers: the point-and-click adventure game.
Though Erik Wolpaw's argument some seventeen years ago remains valid— a blunt, succinct takedown of frustratingly obtuse moon-logic puzzle mechanics and its prevalence within the genre at the time — it is apparent with games published and developed more recently by Wadjet Eye, for example, have learned a lesson from it. The pixelated graphics may be evocative of earlier titles that seem patronizingly nostalgic, but the puzzle mechanics are more accessible than those of yesteryear. There's a greater emphasize on rewarding observational skills as opposed to idiosyncratic reasoning, with a coherent sequence of cause and effect. There is no point in any of these games (as Wolpaw mentions) involving a man fashioning a fake mustache from masking tape, cat hair, and a packet of syrup in order to impersonate a person who has no mustache whatsoever.

Telltale Games, on the other hand, has managed to popularize a more simplified iteration of the genre that may've started with Sam & Max (which I never tried despite my fondness for the cartoon) but gained wider attention with The Walking Dead: Season 1. Though it remains a high point in videogame narratives — it's unfortunate I find so much of Telltale's catalogue underwhelming otherwise. They're never as well-written as TWD: S1 was, their Game of Thrones adaptation doing little but recycle material from the show with some nauseating fan-service than giving a differing view of Westeros or Essos or even beyond The Wall, and having puzzle-solving omitted as gameplay leaves so much to be desired. Quick-time events and the false promise of a branching narrative hardly make up for the absence of such a prominent element in point-and-click/graphic adventure games as a genre.
Part of the problem, at least for me, is how much of their output is based on intellectual properties not their own — moreso that they tend to be based in a passive form of entertainment. Along with Minecraft: Story Mode (that looks and sounds terrible) and Tales from Monkey Island, Tales from the Borderlands is the only other game based on a franchise from an interactive medium. Perhaps it is why it turned out so much better than the rest…
The Unreliable Narrator(s)
A trope in fiction I am particularly fond of is the "unreliable narrator." Moreso than these omnipresent entities that dispassionately detail events, there's something very true to life of a story as told by someone whose perception of those events are highly questionable. I'd even argue that any story told from a first-person perspective should be inherently unreliable as people have a tendency to distort reality, often subconsciously but dishonesty is far from uncommon, when it comes to memory. Whether to demonize or aggrandize, exaggerate or downplay, obfuscate or contrive — every human being does this to some degree or another.
Tales from the Borderlands not only has two of them — in the form of the fast-talking, improvisational con artist Fiona (voiced by Laura Bailey) and the egotistical yet incompetent corporate middle-manager Rhys (voiced by Troy Baker) — but uses the Telltale "branching narrative" format, as with Life is Strange, to subvert and deconstruct such gameplay.

The majority of the narrative is framed as Fiona and Rhys, in the penultimate section of the actual plotline, recounting all the events that lead to that point. A masked stranger has not only taken them hostage at gun-point and makes them trek across the desert— he's the one who demands the recounting of those events with suspicious enthusiasm. He interjects incredulously when it isn't Fiona or Rhys calling out one another's bullshit, including when the earlier (if taking the option) honesty admits to trying to throw the latter out of her steampunk caravan.
Two other scenes involve what is typically portrayed as an oh-so-important binary choice at first are both proven to be false representations. They have the same outcome regardless of the choice made because it never happened. Fiona and Rhys, either under delusion or vanity, use hyperbolically heroic feats to cover up a moment of vulnerability. The idea of not being in control — despite being player-controlled characters—terrifies them at their very core. But it makes perfect sense for a con artist, a person who manipulates others for gain as an occupation, and a corporate ladder-climber, who desires respect and adoration from others, to be so averse to even admitting they ever had egg on their face.
The whole "branching narrative" format really does work better when telling this kind of story, rather than propping up some illusion of drastic change with each decision. The game's even playful enough to just outright admit a lot of the choices made are entirely superficial in nature, such as a paint job for the aforementioned steampunk caravan or which outfit to wear as part of a later heist. The ending of the story is already set in stone, for the most part, at the very beginning and means the decisions are more about how Fiona and Rhys — and thus you, the player — choose to portray past events after the fact. But, given the untrustworthiness of those characters, how sure are you most of the options given aren't also lies? Even the previews at the end of an episode are full of scenes that never actually happen in the next one…
Audio-Visual Delight
Previous Borderlands titles were all accompanied by openings that introduced the player characters to an incredibly apropos rock song. Obviously, Tales from the Borderlands follows suit with every episode but manage to blow all those completely out of the water.
The pretension many videogame developers have as being amateur filmmakers can be an annoyance like David Cage's ventures Indigo Prophecy, Heavy Rain, and Beyond: Two Souls. There's an obvious admiration for cinematic craft but a lack of understanding in how it really functions as a form of storytelling. They can slavishly copy certain techniques and tropes but cannot quite comprehend how they're supposed to be used to convey meaning or create an atmosphere. The opening for each episode of Tales from the Borderlands, more than most, adeptly uses cinematography and editing to set a tone and is further punctuated by their musical selection. It's difficult for me to not squeal gleefully when quick cuts, slow motion, or the action taking place visually is timed to the beat or melody of a song so well and how a diegetic song becomes non-diegetic as displayed in the first episode's opening. They're as stylish as many other "cinematic" videogames try to be, but it's the right kind of style — not by overshadowing or dismissing the more substantive elements of visual storytelling, but working in tandem with them.
The aforementioned Fiona and Rhys are (respectively) voiced by Laura Bailey and Troy Baker but it would be remiss to not bring up how fantastic they are in their roles. This extends to the rest of the cast that includes both personal favorites of mine, like Patrick Warburton and Phil LaMarr, as well as those less familiar like Ashley Johnson as the kawaii GORTYS or Susan Silo as the intimidatingly statuesque Vallory. The reason I had been so harsh of Oxenfree isn't just because I had been thoroughly impressed with Adam Hines' writing contributions here but also Erin Yvette's performance as Fiona's inexplicably biracial sister, Sasha, who has the same effect on men as Helen of Troy and an intense fondness for submachine guns.
While the plotline keeps trying to 'ship (that's how it's described in-game too) both Sasha and Rhys throughout—even asking for your blessing by the end—it's hard to not think that he and Fiona, due to Baker and Bailey's interplay, are a far better match for one another. All the antagonistic banter has an underlying playfulness to it, as if they're the most stereotypical Jewish couple in science fiction and felt odd that no one ended up yelling "Jesus, why don't you two screw already?!" There's also this oddly suggestive bit. It was all the more amusing that, when Batman: The Telltale Series came around, Baker would be voicing Batman while Bailey would be Catwoman — their initial session of fisticuffs even coming off like Klingon love-making the way it did ages ago in Batman Returns.
Then there's Dameon Clarke as the one and only Handsome Jack. Or, more accurately, the holographic A.I. ghost of Handsome Jack. In the larger context of the series; he's a Disaster Capitalist Tech-Bro who wouldn't be that out of place as the antagonist in a James Bond film, though he has a better sense of humor and far more casual in approach, that once manipulated treasure-seeking mercenaries — referred to as "Vault Hunters" — to open alien tombs and abscond with the artifacts (read: giant monsters) inside to attain tyrannical power over the planet of Pandora and it's neighboring moon of Elpis. Eventually, after pissing off one too many of the wrong people, he was killed by the same Vault Hunters whose achievements he claimed for himself.
He is a cartoonish supervillain in just about every way save for the fact, despite the obviously heinous nature of his actions, he still perceives himself as the hero in the situation. There isn't the same kind of depth as there was with Wilson Fisk in Daredevil — but I always prefer a villain who's under the erroneous notion they're in the right. It's far more reflective of reality where flesh-and-blood human beings regularly rationalize indefensible behavior by giving it a noble or pragmatic spin, due more to personal investment rather than any sort of principle. No one in reality is ever willing to admit they're the bad guy and the fact a lot of fiction relies on such outright, unapologetic evil is creatively lazy on part of those storytellers.
Whether it's his overblown ego or suffering from a Lovecraftian form of insanity — the guy's definitely unhinged. He rules with an iron fist based on the half-assed excuse he's getting rid of "bandits" (read: anyone he doesn't like or just slightly annoys him) and, typical of all vainglorious dictators, constantly exposes those living under his regime to propagandic iconography of himself. This leads to a corporatized cult of personality that would cause Ayn Rand to rise from the grave and give her sycophantic approval — one that remains and thrives well after his death, of which the protagonist Rhys is an adamant follower.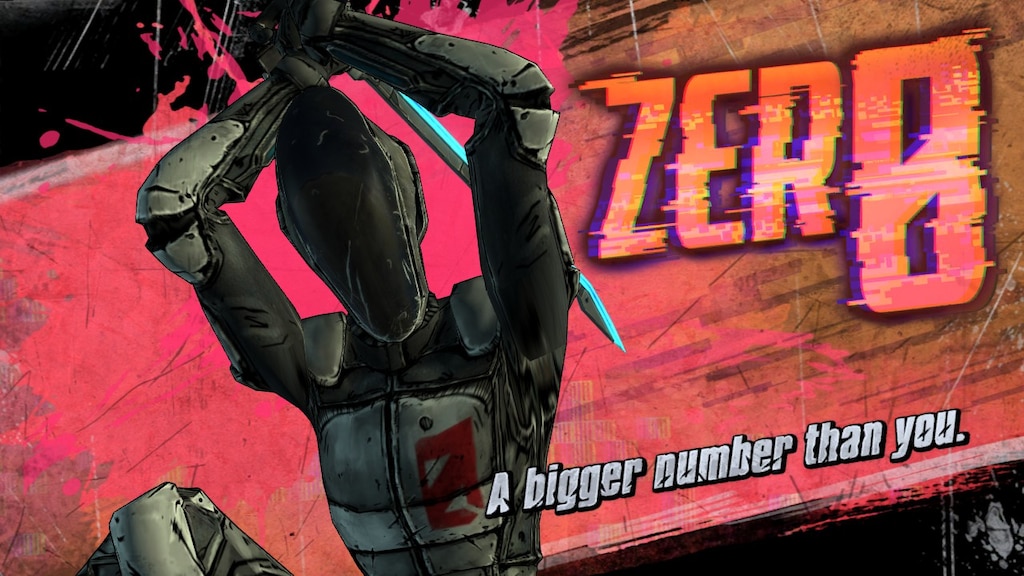 Based on the player's choices, the story in part becomes about whether Rhys embraces the Disaster Capitalist Tech-Bro mentality programmed into him as an employee of the Hyperion Corporation, outright rejects it, or so conflicted he goes back and forth between the two. Having the digitalized version of the man he worshiped haunt him allows for that conflict to be both internal as well as external, as Jack is capable of some interaction with the physical world and whose knowledge effects the outcome of the plot in a concrete way. Unlike The Walking Dead: Season 2, involving an unintentionally comedic scene where a man in his 50's tells a preteen girl they "aren't so different," the comment as made in Tales from the Borderlands actually has some precedence. The dialogue between Handsome Jack and Rhys, as performed by Clarke and Baker, establish a solid connection well beforehand and is far more profound for that. Jack may be a sociopathic bastard but he's incredibly charming and makes it hard for Rhys (and the player by proxy) to deny the gifts he promises — sometimes exploiting his own personal vulnerabilities as a way to elicit empathy, all in the effort of manipulating Rhys for personal gain to his unbeknownst detriment. Not only is Rhys an unreliable narrator himself, one under the control of a player, but directed by another far more unreliable narrator that further informs his decisions and the rationale for them.
Introduction by Epilogue
Despite being the latest entry of a series that had existed since 2008 and built its setting over three games, Tales from the Borderlands makes for a fantastic entry-point. Much in the same way Witcher III did for Andrzej Sapkowski's short stories and novels that started in 1986 as well as the previous videogame installments by CD Projekt RED. The self-contained nature of those stories, even with all this canon attached, is incredibly refreshing. We're in an age where shared universes are becoming more commonplace in cinema, much like invasive weeds gradually killing off the local flora, while serialization on television and streaming services treat episodes more like chapters in an on-going story than functioning on their individual merit.
It's becoming harder to jump headfirst into any movie or the random episode of a show you're unfamiliar with and not feel confused by what is going on, given this expectation to have watched every related film beforehand or episode prior to that. I sincerely doubt anyone who hadn't watched The Avengers, Captain America: Winter Soldier, Iron Man 3, and Ant-Man would be able to understand why one should care about any of the events or people in Civil War — those who claim otherwise are likely either comicbook fanboys (who are far more obsessed about continuity than anyone should be) or liars. Maybe both. They're not mutually exclusive.
It really is unfortunate that, instead of getting a second installment soon afterwards, Telltale Games would rather make goddamn Guardians of the Galaxy (as if the movies didn't aggravate me enough already), the cynical cash-grab that is Minecraft: Story Mode, or vainly attempt at making lightning strike twice with another middling-to-below-average Walking Dead title (the one based around Michonne being the worst attempt). Because Tales from the Borderlands is, in my opinion, easily the best game they've made since The Walking Dead: Season 1 and deserved a sequel more than any other franchise they've worked on.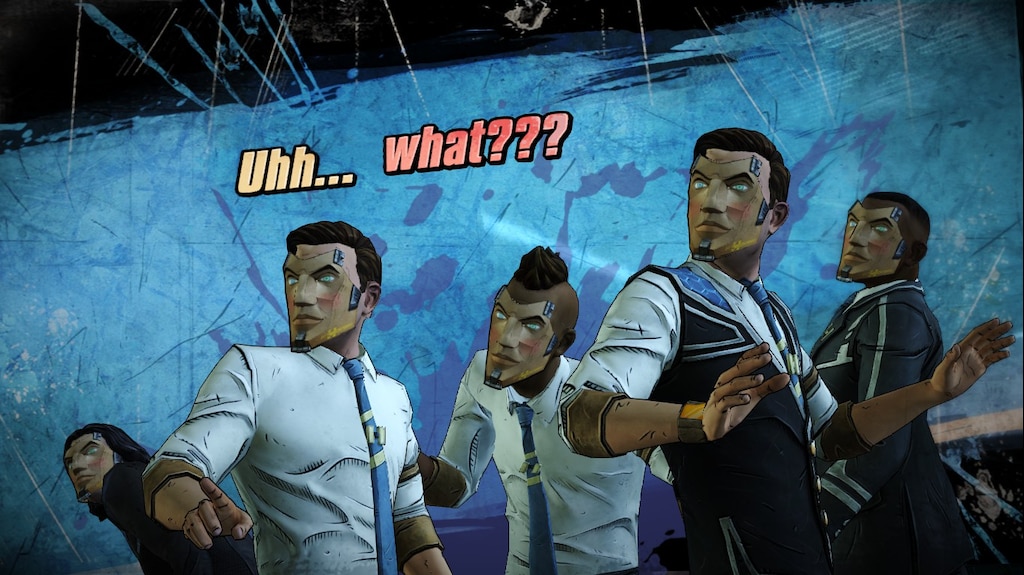 I honestly do think part of that is because the Borderlands series is from an interactive medium and, more specifically, first-person shooters. Having a graphic adventure set in an interactive world that operated on otherwise disparate mechanics elsewhere is the modus operandi that Telltale should employ in general than adapting any passive entertainment like films, television, or comicbooks. There are so many games out there with an abundant mythology ripe for the taking but focus more on gameplay than storytelling. Giving them a graphic adventure treatment in order to explore those digitally constructed universes from a different perspective, especially for those who're not fond of the gameplay model originally used, leads to a newfound appreciation with the material itself.
More importantly, we'd get more games that — as meta-commentary — deal with the nature of player agency as well as ludonarrative dissonance in new and interesting ways. That's something which can't be done with works from a passive medium, that only require observation on the audience's part than any interaction. It'll further cement videogames not just as a time-wasting hobby but as being true Art in its own right. There is no better example of this, and what can be done further if used as a template for future titles, than Tales from the Borderlands…

[Originally posted on 10/1/17 @ Medium.com]